After watching the orphan recently, I found this movie with a similar premise. But after completing it, the concept of an evil orphan was about the only similarity. However with this one, there was less grueling death, and a bit more integration with the two family's plots.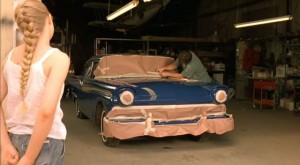 A family consisting of a mother and he two almost grown kids, have to move out of their house after their father's death. They end up at the uncle's car junkyard for a while until the settlement comes in. Other than that promise, there was no money to speak of from the father, but he did leave some adoption papers behind. Since the mother is the next of kin, she is offered to take custody of the child on a temporary basis.
At first, there is little more than a conflict between the existing siblings since they're almost out of the house, but soon there is some financial stress when the settlement was used to pay debts, and the uncle starts getting a little weird. Aside from the ordinary situations, the girl starts behaving oddly. Oddly as in sabotaging the brother's girlfriend's car and then getting her impaled on a spike hidden in an old fuel truck. Those sort of things.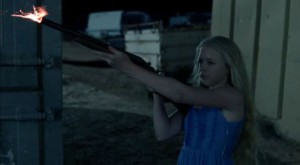 Getting wise to her antics, the older daughter runs off to do some research and finds a shocking connection to their tragic situation. This leads to not any breakdown within the family, but at least one major character dies, and that's enough to warrant labeling this a horror movie.