When you think of Heavy Metal Halloween movies, you may think of Heavy Metal Zombies or Trick or Treat with Gene Simmons, but here we have the real deal.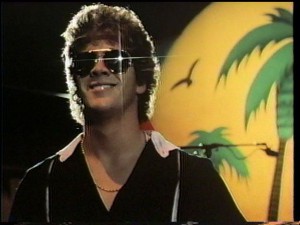 Based on real life band Sorcery, a heavy metal band is in the process of recording their new record. Internal tension is running high as the lead singer Billy 'Eye' knows he's hot stuff and acts as such. A pseudo-ex-girlfriend is still on the roster and while not being involved any more with Billy, she still was promised a song of her own. She gets placed on backing vocals, which doesn't cut it, but there isn't a whole lot she can do.
Luckily for her, she almost gets killed. While to most, this wouldn't seem like a logical jump, in this case Billy suddenly shows up after stating he'd be out hooking up with groupies all night. He kills a fair amount of the crew save for the important ones that will be required later in the movie. She almost gets it too, but is able to stop him and later testify so he could get the chair.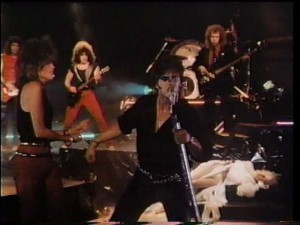 Moving to the good part of this situation she inherits the band, and we jump forward a year where she is somewhat successful after having the gig she wanted all along. However on the one-year anniversary, Billy 'Eye' suddenly appears randomly and spooks people. This gets the girl somewhat paranoid as anyone of moderate importance doesn't see him and doubts her sanity.
Slowly throughout the movie, he appears more and more, but never too obviously. There are some fleeting glimpses and random breathy phone calls, but in the end the show must go on, and they prepare for the big concert. Then guess who shows up for a grand finale. But a finale for who?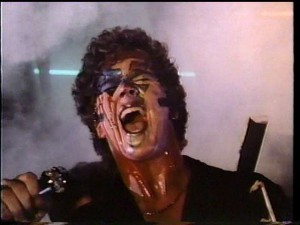 The movie is pretty silly, but if you like cheesy 80's heavy metal then that aspect will play to you favor. The songs are actually decent, which I imagine is helped by having a real band create the songs rather than a studio trying to figure out what would be somewhat realistic. Bonus points for the break-dancing werewolf naturally.